Welcome to the 31st edition of My Fortnightly Movie/TV Thoughts!  Last fortnight, I reviewed Risen (2016).  This fortnight, I'm reviewing:
Harry Potter and the Deathly Hallows – Part 1 (2010), rated M for fantasy themes and violence
Harry Potter and the Deathly Hallows – Part 2 (2011), rated M for fantasy themes and violence
Those of course are the Australian ratings; in the United States, the ratings are:
Deathly Hallows – Part 1 – PG-13 for some sequences of intense action violence, frightening images and brief sensuality
Deathly Hallows – Part 2 – PG-13 for some sequences of intense action violence and frightening images
As usual, I'll give the trailers at the end, and a clip each.  And as usual, I offer the following disclaimer, just to be safe:
WARNING: POTENTIAL SPOILERS AHEAD.  PROCEED AT OWN RISK.
Harry Potter and the Deathly Hallows – Part 1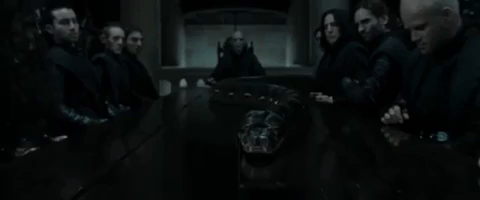 The decision to split the final Harry Potter book, The Deathly Hallows, into two parts, was a controversial one.  It was one of a string of final novels to be split in two when adapted for the screen, along the likes of The Hunger Games: Mockingjay – Part 1 and Part 2.  While the second Deathly Hallows is widely regarded as one of the best films in the series (rightly), the first is often regarded as one of the worst.  In my opinion, though, it's one of the two or three best – if not THE best!
After the events of Half-Blood Prince, Lord Voldemort (Ralph Fiennes) and his Death Eaters have begun murdering Muggles and infiltrating the Ministry of Magic.  Minister Rufus Scrimgeour (Bill Nighy) assures the media that the situation is under control.  Harry Potter (Daniel Radcliffe), Hermione Granger (Emma Watson) and Ronald "Ron" Weasley (Rupert Grint) resolve to complete the quest Professor Dumbledore (Michael Gambon) left them before he died: to find and destroy all of Lord Voldemort's horcruxes, and thus destroy him.
Deathly Hallows – Part 1 is very dark, and very bleak.  Gone is the fun and magic of previous films.  Now is (finally) the time to fight.  And yet, despite it all, it remains one of the most engrossing, and best-crafted of the Wizarding World films.
The film handles its emotional element quite well; one of the most poignant scenes in the series, in my opinion, is this film's opening scene of the main trio having to leave their families for the families' safety, due to the threat they face from Voldemort.  Hermione's erasing of her Muggle parents' memory of her was absolutely heartbreaking, and Emma Watson perfectly captures Hermione's pain in her expressions.  An overall great performance.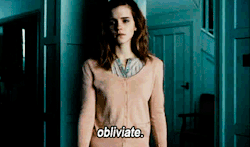 And then there's another VERY emotional scene at the end that I won't spoil, but which is even more heartbreaking.  Again, handled really well, with a great performance from Daniel Radcliffe as Harry Potter.
However, the character who bears the brunt of Deathly Hallows – Part 1's emotional roller coaster is Ron Weasley, who goes through a real crisis of faith, but ultimately comes out the stronger.  Once again, an excellent performance by Rupert Grint.
Ralph Fiennes once again delivers a fantastic performance as Tom Riddle – AKA Lord Voldemort – the undead main villain of the franchise, a man (er, wizard) lusting after immortality and absolute power (not only for himself, but for pureblood wizardkind in general, even though he's a half-breed) – and who wants Harry's head.
Helena Bonham Carter delivers another solid (and highly entertaining) performance as Bellatrix Lestrange, a fanatical (and slightly insane) Voldemort supporter, and relative of the Malfoys.
Toby Jones delivers a final delightful (and in one scene heartbreaking) performance as Dobby, the house elf who first helped Harry way back in Chamber of Secrets, and plays a crucial part here.
The late Alan Rickman (RIP) is once again excellent as Professor Severus Snape, who appears to have definitely thrown his lot in with Voldemort and the Death Eaters – especially after killing Dumbledore in the last film.
Tom Felton also provides a great performance as Draco Malfoy, a young Death Eater who struggles with the side he's on, and whether he should be aiding Voldemort.  Jason Isaacs is also great once again as Draco's father Lucius, who is eager to get back into the Dark Lord's graces.
And it's not Harry Potter without a bit of action & tension!  (Both of which the film nails splendidly.)  The visuals are also excellent, as usual.  I especially liked the "Battle of the Seven Potters" at the start, with the battling good & evil wizards flying over busy (Muggle) highways and roadways, often right above people's heads.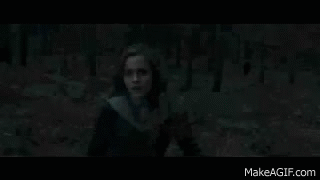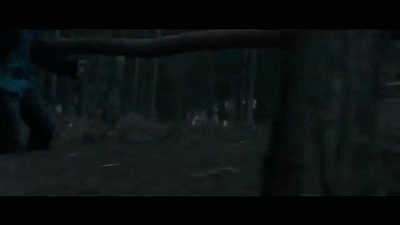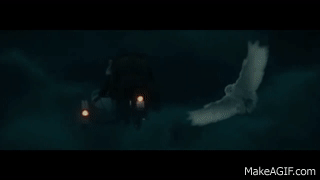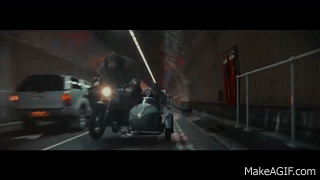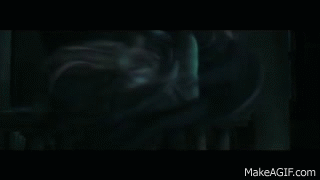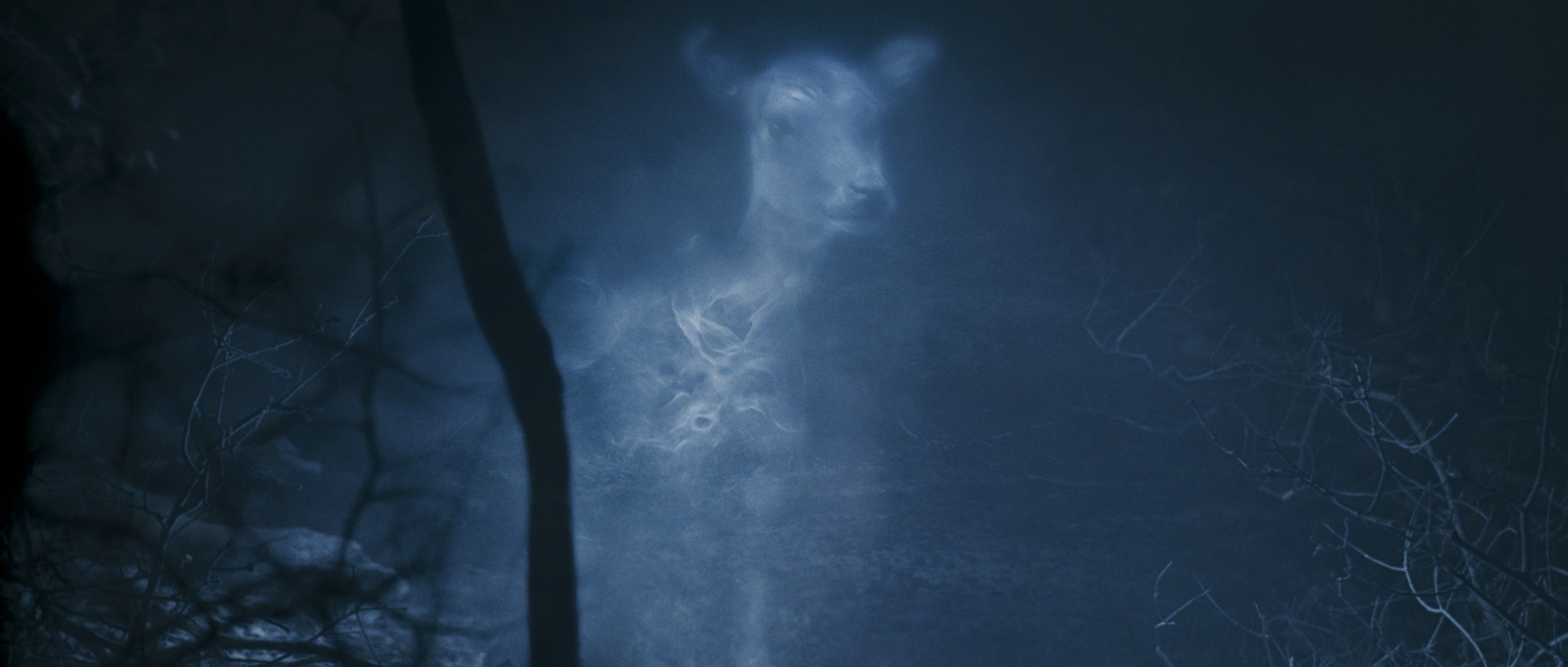 I also liked some of the element it added to the fictitious world – particularly, the Elder Wand, and the legend of the Deathly Hallows.
Harry Potter and the Deathly Hallows – Part 1 is an enormously entertaining penultimate installment in the near-perfect story of The Boy Who Lived, both providing a fantastic (and sinister) set-up for the finale, and a great movie in its own right!  (The movie's ending is particularly awesome & sinister.)
Harry Potter and the Deathly Hallows – Part 2
Unfortunately, nothing lasts forever.  All good things must come to an end.  That doesn't mean there aren't things we wish could go on forever; for me, Harry Potter is one of them.  I still haven't read J.K. Rowling's books, but the movies based on them are phenomenal, a captivating and thoroughly entertaining fantasy world that enchanted me like no film or book has since I first read & watched The Chronicles of Narnia.  But alas, come to an end it must.  Thankfully, it's a gloriously epic and emotional end, and one of the best Potter installments.
After the events of the previous film, Harry Potter (Daniel Radcliffe) asks the goblin Griphook (Warwick Davis) to help himself, Hermione Granger (Emma Watson) and Ron Weasley (Rupert Grint) break into Gringotts bank, suspecting a horcrux to be in Bellatrix Lestrange's vault.  Griphood agrees – in exchange for the Sword of Gryffindor.  The wandmaker Ollivander (John Hurt) informs Harry that Draco Malfoy's wand has switched allegience to him.
Using the Polyjuice Potion and the invisibility cloak, they just barely retrieve the Horcrux – Helga Hufflepuff's cup – before the alarm is set off, and just barely escape the bank – and London – on Gringotts' guardian dragon, whom they free.  Harry subsequently receives a vision of Lord Voldemort (Ralph Fiennes) killing the goblins of Gringotts, including Griphook.  Harry also discovers that there is a Horcrux somewhere at Hogwarts.  Dumbledore's brother Aberforth (Ciarán Hinds) reluctantly helps him sneak into Hogwarts, where Severus Snape (Alan Rickman) is the new Headmaster – until he is tossed out by Minerva McGonagall (Maggie Smith).  Searching for the Horcruxes while Voldemort and his army surround Hogwarts, the stage for the final battle for the future and fate of the Wizarding and Muggle worlds – in short, the whole planet – has been set.
Considering how I was raised to view Harry Potter, one of personal favourite things about Deathly Hallows – Part 2 is just how obvious the Christian themes are.  Of course, the Christian elements have been there from the start – J.K. Rowling is a Presbyterian, after all – but they become so clear they're undeniable here (despite some people's stubborn insistence that the idea of anything Christian in HP is ludicrous; usually people who don't know a thing about it), especially in Harry's and Voldemort's arcs.  Voldemort has always been clearly based on the devil, but he also seems to be based on the Antichrist as well; quite fitting actually.  Harry's story, on the other hand, actually draws elements from none other than Jesus Christ Himself; I say "elements", since young Potter clearly isn't a Son of God or perfect or anything like that.  But while I won't spoil what happens, he – or at least, what he does – is quite clearly modeled on our Messiah Yehoshua, which I quite liked.
The film is more intense and more emotional than some of the previous installments (particularly the first two films), and like Part 1, it has some surprising deaths.  The emotional element is handled quite well, as is the intensity; I didn't really notice the intensity or dark tone while watching.  I was too engrossed!
The movie's also loaded with action, tension and excitement as we finally see the final showdown between between Good and Evil – from escaping Gringotts and freeing the captive dragon, to the truly epic Battle of Hogwarts.  Deathly Hallows – Part 2 is a roller coaster, and a damn good one at that!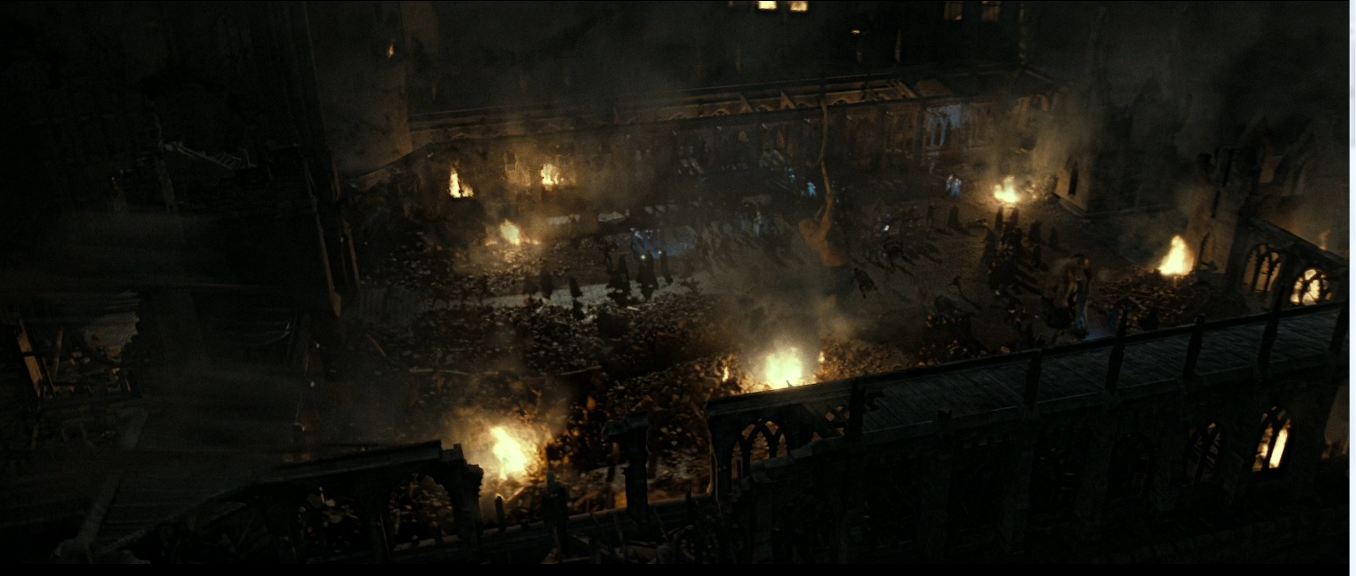 And as is to be expected, the film's special effects and cinematography are more than excellent; I particularly liked the look of the opening scene, especially the shot of the despondent Snape looking out over Hogwarts.  Each shot in the film is carefully thought out.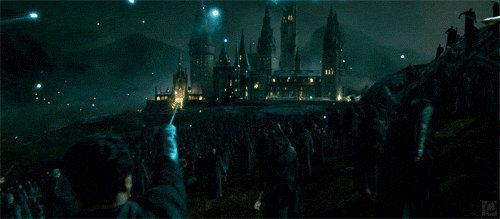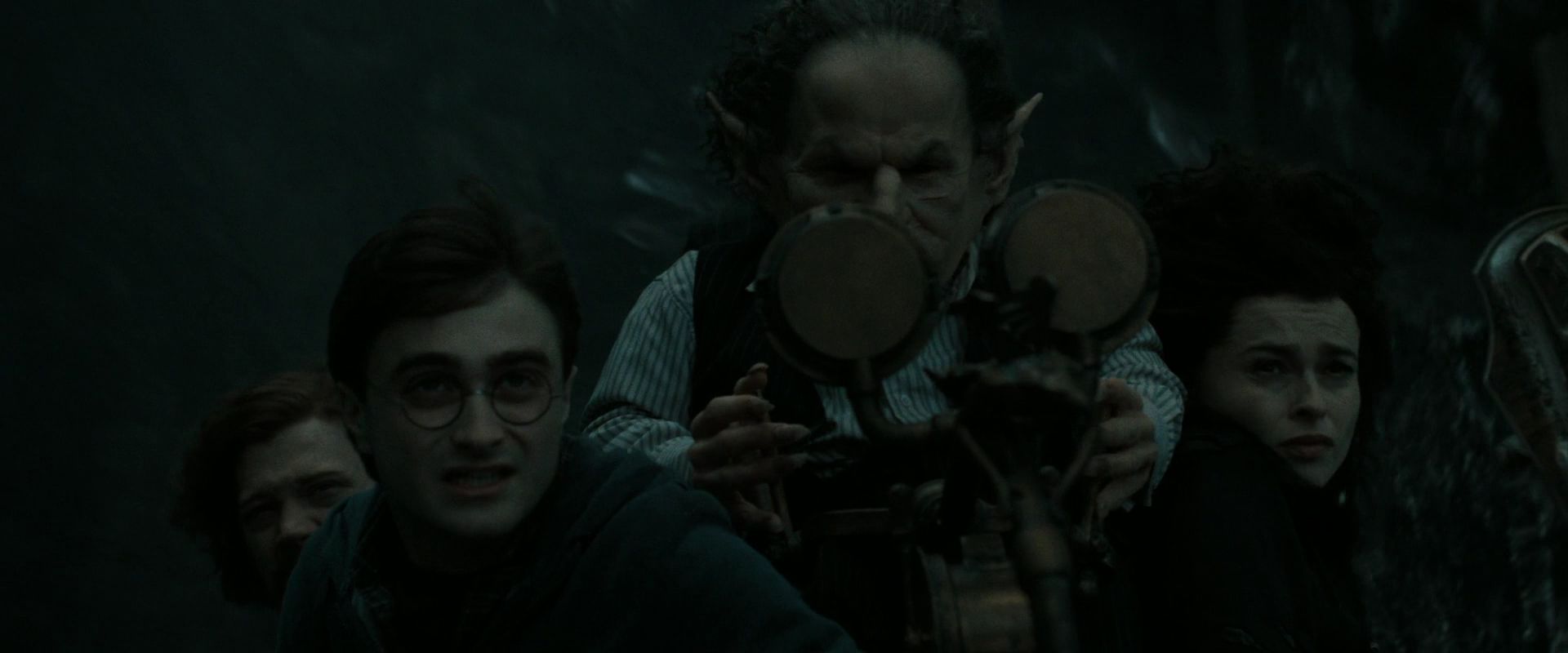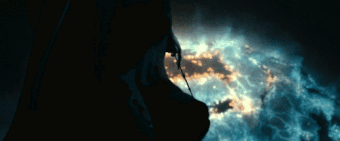 OK, OK, I'll stop!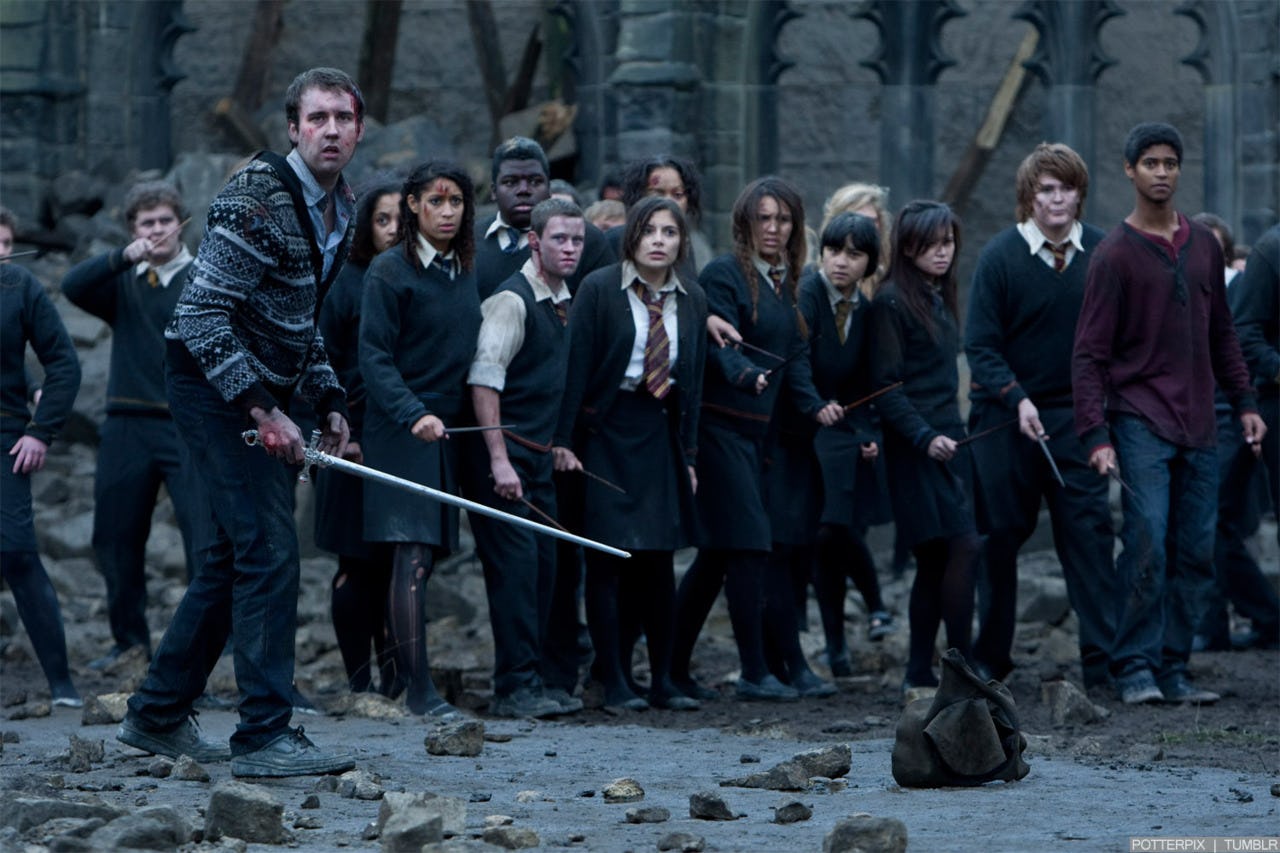 The acting is fantastic.  Alan Rickman provides one of his best performances yet as Professor Severus Snape, Hogwarts headmaster and Death Eater, and one of the best-developed characters in the franchise.
I also really liked Minerva McGonagall's bigger role here (especially when she dueled Snape, and when she summoned the stone guards), and who doesn't like Maggie Smith?
Daniel Radcliffe provides a perfect final performance as Harry James Potter, The Boy Who Lived, now in the fight for his life.  He is in some ways a messianic figure.
Rupert Grint similarly gives a fantastic final performance as Ron Weasley, Harry's best friend, and Emma Watson is great as Hermione Granger.
Ralph Fiennes gives a great finale to his role as Tom Riddle, otherwise known as Lord Voldemort, Harry's archenemy.
And of course Helena Bonham Carter is once again great as crazy Death Eater Bellatrix Lestrange.
I'd also like to commend Julie Walters on her performance as Molly Weasley.
And Bonnie Wright is great for the last time as Ginny Weasley, Harry's girlfriend.
I'm sure I've missed something in my review, but Harry Potter and the Deathly Hallows – Part 2 is an epic, emotionally satisfying and all-round perfect conclusion to a perfect franchise.
The Part 1 trailer:
The Part 2 trailer:
An epic double trailer:
A Part 1 clip:
A Part 2 clip:
[What do you think of these films?  Be sure to let me know in the comments!  Also, send me your review of any movie – in the comments section of any post – and I'll post it on this site.]